Tags
Related Posts
Share This
IR SoCal Guest Appearance – It's A Frog's Life Acoustic Podcast: Show #72
Hey music junkie! First time here? Click over to http://insomniaradio.net/subscribe/ and get all of our content (tons of music) delivered for free. Enjoy your time here, and keep it loud!
This is Charles from The SoCal Sessions here at Insomnia Radio. I recently had the opportunity to share one of our regional acoustic artists on Graham Holland's music show out of the UK, It's a Frog's Life Acoustic Podcast.
The artist is local Los Angeles based artist, Adam Freedman and the track we shared with their listeners is called Connecticut. All the information is at the link below, so please click through and support Graham and Adam both. Thanks!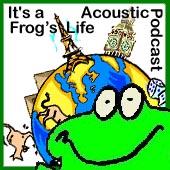 Show 72 – Hopping All Over The World – takes us all the way round the globe, from Australia to the USA, from Saudi Arabia to Norway via Luxembourg. And two of the songs are submitted and introduced by fellow members of the Association of Music Podcasting. What a great selection of acoustic music!
Click below to listen online and check out all the shownotes (62 minutes)